Promptair & Electrical Pty Ltd | SCR EPM Permanet Magnet Series 22kW-55kW
SCR Variable Speed Drive EPM Series 15kW – 55kW
*2018 New Release*
The launch of the all new 2018 EPM range from SCR has laid down the benchmark for other VSD air compressor manufacturers to aspire to. The EPM challenges it's rivals by producing more air, using less power, costing less to service, and typically for a lower purchase price. The SCR EPM range uses a high efficiency, IPM permanent magnet DC motor to deliver superior energy efficiency in comparison to the typical, less efficient, IE3 AC induction motors used by most compressor manufactures.
When compared to using a traditional fixed speed compressor of equivalent size, businesses with air demands that fluctuate throughout the day will see significant power savings, as much as 60%, and a payback in as little as 1-2 years.
The benefits of the EPM range are hard to ignore, as is the initial low investment price and the high-quality engineering found throughout the range.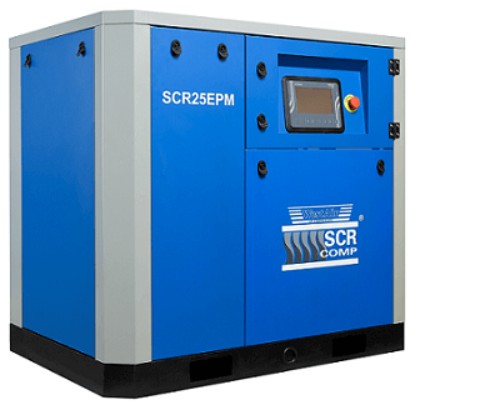 Why Install the SCR-EPM?
Save Up to 60% in Power! Compared to an equivalent fixed speed compressor
More Air per Kilowatt New oversized compression airend delivers 10-15% more air
Pay-Back in as Little as 1-2 years The more your air demands fluctuates, the faster the pay-back
High Efficiency So efficient you may be able to use a lower kW compressor
No Offload Running When compressor is up to pressure, it stops with no offload running
Low RPM Average of 40-50% lower max RPM than our competitors
Durable Capable of running in ambient temperatures to 45 Degree Celcius
Features
Highest IPM motor efficiency (higher than IE3 efficiency ratings)

Soft start drive and fan motors (unlimited motor starts per hour)
New larger, high efficiency airend – increased efficiency by 5-10%
Direct drive (1:1 ratio) – no gearing or transmission loss
High Quality Inovance inverter
Variable range of 25-100%
Intelligent 7″ Touch Screen Micro Controller
Siemens electrical components
Large oversized coolers designed for Australian conditions
2 year warranty
Advantages
Energy savings of up to 60%
Low power consumption
Soft start (avoids high amp draw on start up)
+0.1 bar constant line pressure
No over pressure running
Capable of running in ambient temperatures to 45 Degree Celcius
No loss power transmission
Low noise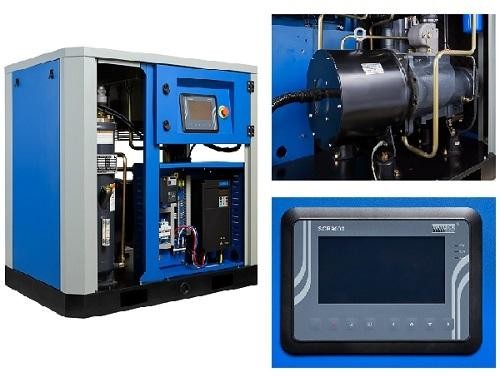 SCR Variable Speed Drive Base Mount Unit
Model
Power
(kW)
Power
(HP)
Capacity
(m³/min)
Capacity
(CFM)
Pressure
(bar)
Air Outlet Size
Dimensions
(mm)
Weight
(kg)
Noise Level (dBa)
SCR20EPM-8
15
20
0.93-2.9
32-102
8
1"
120 x 80 x 110
460
66
SCR25EPM-8
18.5
25
1.05-3.5
37-123
8
1"
120 x 80 x 110
480
68
SCR30EPM-8
22
30
1.26-4.2
44-148
8
1"
120 x 80 x 110
650
68
SCR40EPM-8
30
40
1.8-6.1
63-215
8
1 ½"
130 x 95 x 137
830
68
SCR50EPM-8
37
50
2.2-7.2
77-254
8
1 ½"
130 x 95 x 137
850
69
SCR60EPM-8
45
60
2.8-9.3
98-328
8
1 ½"
130 x 103 x 152
890
70
SCR75EPM-8
55
75
3.4-11.2
120-395
8
2"
230 x 135 x 150
1300
76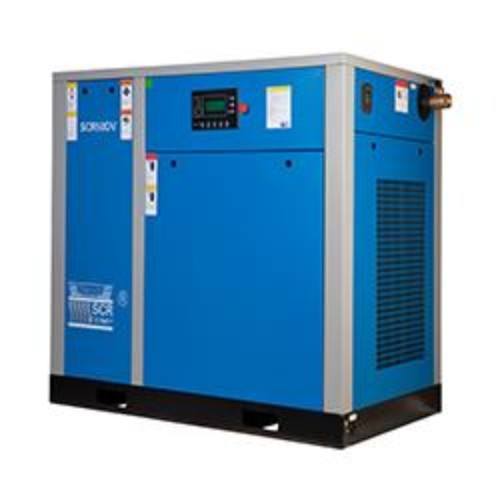 SCR Variable Speed Drive Base Mount Unit
Model
Power
(kW)
Power
(HP)
Capacity
(m³/min)
Capacity
(CFM)
Pressure
(bar)
Air Outlet Size
Tank Size (L)
Dimensions
(mm)
Weight
(kg)
Noise Level (dBa)
SCR20EPM-T-8
15
20
0.93-2.9

32-102

8
1"
366
133 x 98 x 166
650
66
SCR25EPM-T-8
18.5
25
1.05-3.5
37-123
8
1"
366
133 x 98 x 166
650
68
SCR30EPM-T-8
22
30
1.26-4.2
44-148
8
1"
366
133 x 98 x 166
650
68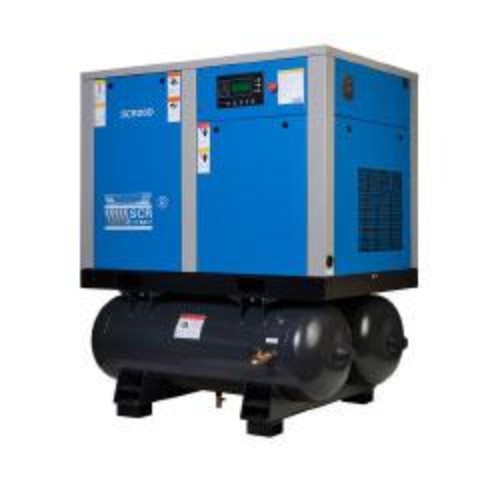 SCR Variable Speed Drive All in One Unit
Model
Power
(kW)
Power
(HP)
Capacity
(m³/min)
Capacity
(CFM)
Pressure
(bar)
Air Outlet Size
Tank Size (L)
Dimensions
(mm)
Weight
(kg)
Noise Level (dBa)
SCR20EPM-TD-8
15
20
0.93-2.9

32-102

8
1"
500
197 x 101 x 173
730
66
SCR25EPM-TD-8

18.5

25
1.05-3.5
37-123
8
1"
500
197 x 101 x 173
750
68