Promptair & Electrical Pty Ltd | Scroll-X Scroll Air Compressors
Scroll-X Series : Whisper Quiet Technology
Westair are pleased to introduce the latest in advanced compressed air technology. The new oil injected silent Scroll-X series is whisper quiet, energy saving, direct drive, vibration free and is extremely reliable with minimal moving parts and long duty cycles.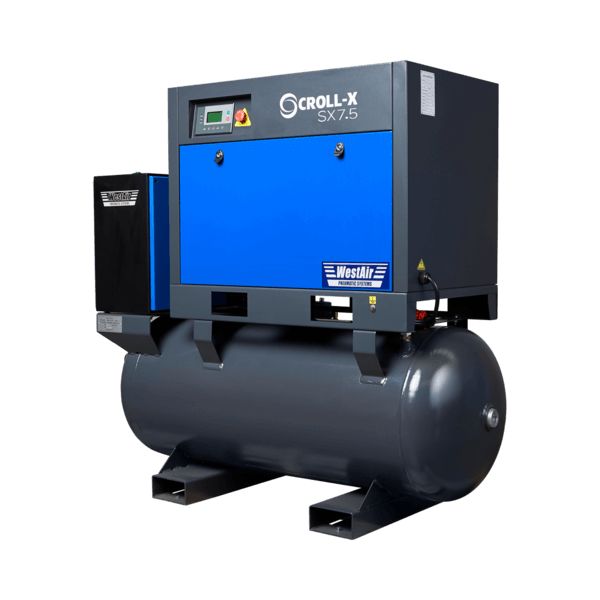 Long Duty Cycles
Unlike reciprocating technology with many moving parts, the Scroll-X Scroll Compressor has one orbiting scroll and one fixed scroll. The orbiting scroll is coupled to the crankshaft in orbit rather than rotated.
The orbiting motion creates a series of air pockets traveling between the two scroll plates.On the outer portion of the scroll, the pocket draws in the air then moves it to the center of the scroll, where it's discharged.
As the air moves in the increasing smaller inner pocket, the pressure increases to the desired discharged pressure. The Scroll-X is oil injected which lubricates and regulates the temperature of the scroll which enables long running duty cycles to be achieved.
Features
3–15 kW
13 – 62 CFM
8 bar pressure
Direct drive 1:1 ratio
Energy saving intelligent Micro controller
Schneider electrical components
SKF Bearings in airend and motor
Overload and temperature safety protection
Large oversized coolers designed for Australian conditions
Seamless steel used on all oil pipes
Standard 1 year warranty
Advantages
Affordable price
Whisper quiet operation
Lower energy costs
Long duty cycle
Minimal moving parts
No Vibration
Control and monitoring systems
Compact design
No loss power transmission
Low maintenance costs
Technical Specifications
Scroll-X Base Mount Unit
Model
Power
(kW)
Power
(HP)
Capacity
(CFM)
Power Supply
Dimensions
(mm)
Weight
(kg)
Noise Level (dBa)
SX-3S
3
4
13
240V
850 x 550 x 700
170
57+3
SX-3
3
4
13
415V/50Hz
850 x 550 x 700
170
57+3
SX-4
4
5.5
18
415V/50Hz
850 x 550 x 700
170
57+3
SX-5.5
5.5
7.5
24
415V/50Hz
1000 x 600 x 750
210
59+3
SX7.5
7.5
10
31
415V/50Hz
1000 x 600 x 750
220
59+3
SX15
15
20
62
415V/50Hz
1200 x 750 x 950
420
62+3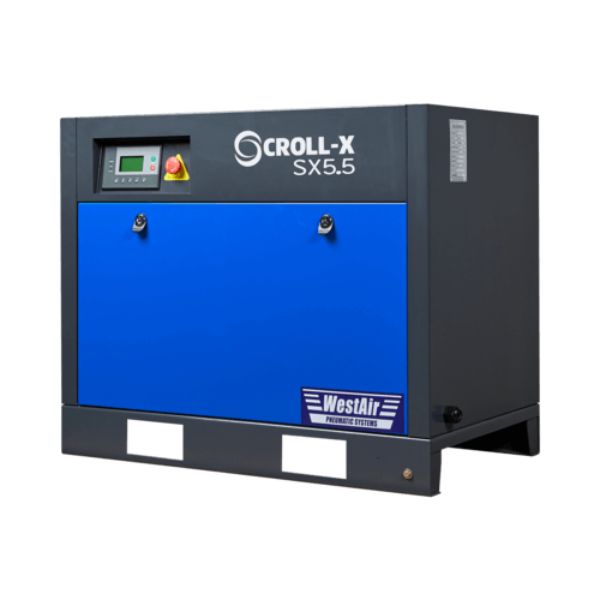 Scroll-X Tank Mounted Unit
Model
Power
(kW)
Power
(HP)
Capacity
(m³/min)
Power Supply

Tank Size (L)

Dimensions
(mm)
Weight
(kg)
Noise Level (dBa)
SX3S-T
3
4
13
240V

200

850 x 550 x 1280
210
57+3
SX3-T
3
4
13
415V/50Hz
200
850 x 550 x 1280
210
57+3
SX4-T
4
5.5
18
415V/50Hz
200
850 x 550 x 1280
210
57+3
SX5.5-T
5.5
7.5
24
415V/50Hz
270
1000 x 600 x 1450
290
59+3
SX7.5-T
7.5
10
31
415V/50Hz
270
1000 x 600 x 1450
300
59+3
SX15-T
15
20
62
415V/50Hz
270
1200 x 750 x 1650
480
62+3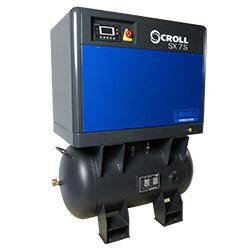 Scroll-X All in One Unit
Model
Power
(kW)
Power
(HP)
Capacity
(m³/min)
Power Supply

Tank Size (L)

Dimensions
(mm)
Weight
(kg)
Noise Level (dBa)
SX5.5-TD
5.5
7.5
24
415V/50Hz

320

1600 x 800 x 1450
330
59+3
SX7.5-TD
7.5
10
31
415V/50Hz
320
1600 x 800 x 1450
330
59+3
SX15-TD
15
20
62
415V/50Hz
320
1800 x 970 x 1600

520

62+3