Promptair & Electrical Pty Ltd | SCR Direct Drive Series
The SCR Direct Drive Industrial Rotary Screw Compressor range is of robust design with low speed oversized airends and uncomplicated 1:1 drive. The SCR Direct Drive the perfect choice for reliability and heavy industrial operation.
With many advantages, the SCR Direct Drive compressor would be an excellent choice in value. SCR use oversized airends and a 1:1 ratio drive. The 1:1 ratio means the motor is directly coupled to the airend via a maintenance free coupling that eliminates transmission loss and reduces noise dramatically. Compared to other compressors using belt drive or small high speed gear driven airends, the SCR Direct Drive delivers outstanding performance and significant energy savings.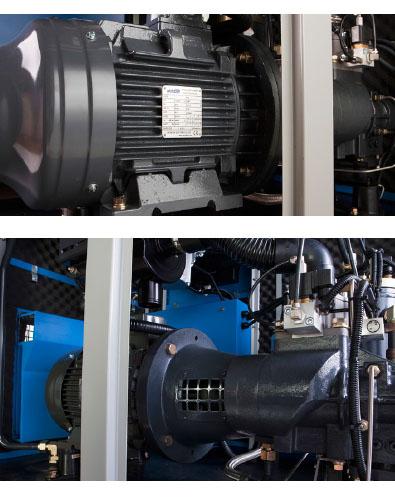 Features
7.5 KW – 280 KW
35 CFM To 1776 CFM
7 To 12.5 Bar Pressure
Direct Drive 1:1 Ratio
German Engineered Oversized Airends
Intelligent Micro Controller For Energy Efficient Control
Siemens Electrical Components
Large Oversized Coolers Designed For Australian Conditions
German Made Drive Coupling
Seamless Steel Used On All Oil Pipes
2 Or 4 Year Warranty
Advantages
Lower Power Consumption
Energy Saving
Low Noise
Less Maintenance And Down Time
Reduced Maintenance Cost
No Loss Power Transmission
Eliminates Belts Breaking Or Slipping
Safer Than A Belt & Pulley System
Technical Specifications
SCR Direct Drive Base Mount Unit
Model
Power
(kW)
Power
(HP)
Capacity
(m³/min)
Capacity
(CFM)
Pressure
(bar)
Air Outlet Size
Dimensions
(mm)
Weight
(kg)
Noise Level (dBa)
SCR10D-8
7.5
10
1.0
35
8
½"
1053 x 690 x 928
250
66
SCR20D-8
15
20
2.3
81
8
¾"
1300 x 900 x 1100
530
66
SCR30D-8

22

30
3.5
124
8
1"
1380 x 850 x 1160
580
71
SCR40D-8
30
40
4.8
170
8
1 ½"
1600 x 1000 x 1360
800
72
SCR50D-8
37
50
6.1
215
8
1 ½"
1600 x 1000 x 1360
860
75
SCR60D-8
45
60
7.15
252
8
1 ½"
1850 x 1000 x 1360
950
75
SCR75D-8
55
75
9.9
350
8
2"
2200 x 1360 x 1755
1720
78
SCR100D-8
75
100
13.0
459
8
2"
2200 x 1360 x 1755
1800
78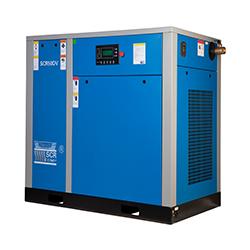 SCR Direct Drive Tank Mounted Unit
Model
Power
(kW)
Power
(HP)
Capacity
(m³/min)
Capacity
(CFM)
Pressure
(bar)
Air Outlet Size
Tank Size (L)
Dimensions
(mm)
Weight
(kg)
Noise Level (dBa)
SCR10DV-T-8
7.5
10
1.0

35

8
½"
180
1072 x 680 x 1612
350
66
SCR20DV-T-8
15
20
2.3
81
8
1"
330
1328 x 1085 x 1716
720
66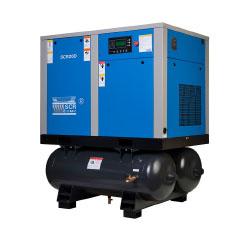 SCR Direct Drive All in One Unit
Model
Power
(kW)
Power
(HP)
Capacity
(m³/min)
Capacity
(CFM)
Pressure
(bar)
Air Outlet Size
Tank Size (L)
Dimensions
(mm)
Weight
(kg)
Noise Level (dBa)
SCR10DTD-8
7.5
10
1.0

35

8
½"
320
1600 x 800 x 1576
410
66
SCR20DTD-8

15

20
2.3
81
8
3/4"
500
1940 x 1050 x 1798
790
66
SCR30DTD-8
22
30
3.5
124
8
1"
500
2060 x 1080 x 1850
840
71